There are some questions in life which are almost impossible to answer. "What's your favourite Judas Priest album?" is most certainly one of them. So, we've done something even more challenging and have shared 10 of our favourite Judas Priest tracks in preparation for our Born Again: Judas Priest Special!
There's only one thing left to do! Get your Priest collection out and listen along with us!
10)
Victim of Changes
from Sad Wings of Destiny (1976)
An inspiringly perfect heavy metal album. Victim of Changes is a track that represents the brilliant musicianship, darkness and power that the entire album executes. It was a face-off between this and Dreamer Deceiver/Deceiver as both similarly display all that is great with the Priest. Solos, soul, atmosphere and a vocal range to make changes well and truly come over your body.
9)
Fever
from Screaming for Vengeance (1982)
With an intro to send tingles down your spine, quickly disturbed by the sounds of KK and Glenn, it's not long before you're sent into a classic Priest sing-a-long. Much like other songs on 'Screaming' this song brings pure emotion and power in the heaviest form. Once again, it's difficult to choose just 1 track from this album- particularly when it's got numbers such as '(Take These) Chains' on it!
Fever all day and all night!


8)
Rapid Fire
from British Steel (1980)
If you're a Born Again regular, you'll know this is a tune we can't help but belt out every night. Heavy from the get-go with drums to bust your gut (forgetting for a moment that they're played by kiddie fiddling Dave Holland). Pounding the world with ultimate muscle, steel and speed! Rapid Fire is one of those songs that gets every part of your body moving. Proper British heavy metal!
7)
Diamonds and Rust
from 'Unleashed in the East' (1979)
There are many variations of this song composed by Priest alone not to mention other artists. However, we didn't hesitate when thinking of our favourite version, found on Priest's 1979 live album 'Unleashed in the East'. It's raw energy transports you to to Tokyo where you find yourself in a trance; face screwed up and muscles contorted trying to replicate the KK/Glenn combo once again. Halford's vocals are truly flawless and knowing this was performed live makes it even more pleasing to listen to.
6)
Burnin' Up
from Killing Machine (1978)
If there was ever a Priest song to 'sexy-dance' to, it'd be this. The suggestive lyrics, sensual guitar tone and Halford's sexually sinister vocals certainly do get you Burnin' Up. Perhaps not the greatest song on the album, but a song I often find myself having the urge to listen to and one rarely mentioned. Combined with 'Evil Fantasies', it makes you wonder what environment this album was written in! Whatever it was, I wanna be there!
5)
Blood Red Skies
from Ram It Down (1986)
An ultimate for fans of '80s heavy metal. The intro is a collection of acoustic sounds with the operatic vibratos of Rob reminiscent to that of a storm building. These sounds are soon shattered by those 80s iconic drums that give off enough reverb to shake you from within- tremendous! Halford's vocals in the verse are slow and subtle which only add more passion to those on-going screams and solos as the storm has well and truly kicked in.


4)
Desert Plains
from Point of Entry (1981)
An underrated album which holds one of my very favourite Judas Priest tracks. Although the version to beat is from Live Vengeance '82, I feel like giving Point of Entry some love is necessary! Desert Plains has some of the most impressive Priest lyrics yet, which are matched perfectly with the consistent pounding drums throughout. The KK- Glenn-Halford combo then takes the song to a whole new level with imagery of riding free evoking so much emotion. Arguably one of Priest's best tracks.
3)
Out in the Cold
from Turbo (1986)
Turbo, the marmite album in the Priest collection; loved by some, hated by many. The hate I never understood. An ultimate '80s party album which also gifts us with songs like 'Out in the Cold'. Another belter of a track with once again a live version to die for ('Fuel for Life Tour'). The synths, the twin guitars, the reverb on that snare- it's tasty. Then, once again, Rob takes it to the next level with a combination of subtle smoothness and a slow build-up to the classic Halford-esque tones.




2)
The Sentinel
from Defenders of the Faith (1984)
I've always said, 2 of the very best songs ever written are Iron Maiden's Rime of the Ancient Mariner and Judas Priest's The Sentinel. Play one after the other and your head is well and truly ready to explode. This whole album is made of immense energy, rapidity and dominance and yet this song still manages to stand out. It's not just a song, but a powerful journey with many roads.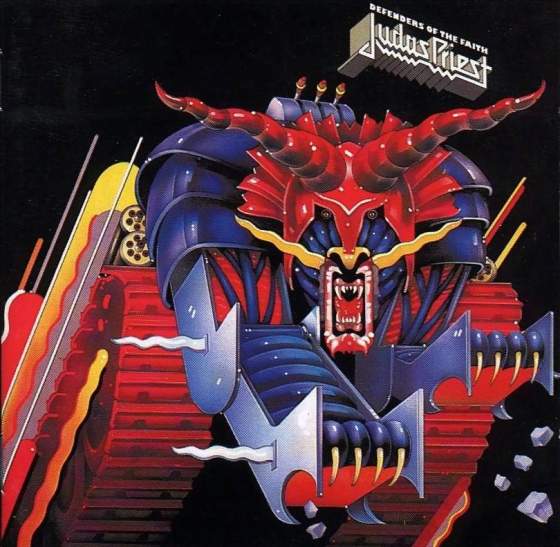 1)
Beyond the Realms of Death
from Stained Class (1978)
A masterpiece, difficult to sum up in just a few sentences. A power ballad in its own right, Beyond the Realms of Death has one of the best vocal performances in heavy metal history. When you add the phenomenal musicianship of KK, Glenn, Ian and drummer Les Binks to the mix, you get that classic Judas Priest sound with a little added extra. Combined with truly emotive lyrics and 2 guitar solos of dreams, you'll never want it to end. And, it doesn't have to! There are many live versions of this song, all incredible. You know what to do with the rest of your day.
We want to know YOUR favourite Priest tracks!
Share them with us and we'll be sure to spin them come Saturday 9th December at The Black Heart in Camden!